How to Transfer Music from Android to iPad
Written By Axel Nash |
"I want to know the easiest and less complicated way to Transfer music from Android to iPad."
Don't worry! Our article today is going to represent your most asked query on the subject. Want to know how to Transfer Music from Android from iPad? Well, we've discussed four such ways from which you can choose the most natural as per certain deciding factors. Well, Music is an all-time favorite of every person on this earth. Music is a magical universal world that we all want to explore in different languages, tunes, and sounds.
Keeping in mind this need, we devised, or you can say, the most convenient ways explaining each step with several screenshots. You should read all the ideas and decide on a particular top method after proper analysis.
So, here we go with an ultimate step by step tutorial on how to Transfer Music from Android to iPad.
Part 1: Transfer music from Android to iPad by one click
Let's begin by describing one of the efficient methods for music transfer from Android to iPad. We are talking about MobileTrans – Phone Transfer as the most straightforward one-click software to do lengthy tasks. You can appreciate lots of features within the software, including phone to phone transfer, high compatibility with a large number of devices, backup, and restoration, etc.
At the same time, the interactive user interface lets you quickly access all the features in a short time. You may not need to read lengthy instructions to use the software. Just give a read to simple steps given below to Transfer music from Android to iPad.
Step 1: Download MobileTrans
First, download official MobileTrans software on your computer. Install and run it by double-clicking program icon. Then, select Phone Transfer over the main window.
Step 2: Start music transfer
Then, connect both the devices, i.e., Android phones as the source and iPad as the destination with your computer. In case you have wrongly connected both the devices, choose the Flip button and exchange position.
Select the Music folder from available files in the Android device and choose the Start button.
Step 3: Check Transfer progress
After you begin the transfer, you can see the progress on its main window. Along with music, it's also easy to transfer photos, videos, and calendars from your Android device to the iPad.
Part 2: Transfer music from Android to iPad by iTunes
Given below are the easy steps on Transferring music from Android to iPad with the help of iTunes. The media player for Apple devices is iTunes, which can play, purchase, organize, and download digital multimedia on devices using Mac and Windows operating system. Each track in its music library contains metadata, which is editable with regards to the album, artist name, genre, artwork, year of release, and other settings.
Let's see how the transfer of music looks like with iTunes.
Step 1: Select music files
Take your Android device and connect it with the computer. Select your songs to move to Music. Please remember to download Android File Transfer software for Mac computer. After that, open the software and head to the Music section. Select the songs and put them in the new folder on PC.
Step 2: Connect iPad
Now, you will have a separate folder on the PC. Disconnect your Android phone and connect the iPad. Then click your Songs or Music after opening iTunes.
Step 3: Start music transfer
Finally, move your selected songs in the folder you created in Step 1 to either iTunes library or Music app. Select the iPad and tap on Music. Here, you can either choose the songs to add to the library or sync the entire library after clicking Sync.
The files will get transferred to the iPad (check its Music app).
Note: The users of Apple Music can directly sign-in on the iPad. Else, you will have to download the streaming music app from App Store and sign in with login details. After it, you can Transfer music from Android to iPad.
Part 3: Transfer music from Android to iPad with Music Streaming App
Music Streaming Apps are the best way to listen to songs online, even without transferring them. Spotify is one such application that allows you to enjoy music on any device, whether it be Android, iPad, or iOS. Pick up your songs by albums, artists, or genres, and make them own playlist.
After creating a playlist on Spotify, access it on any device.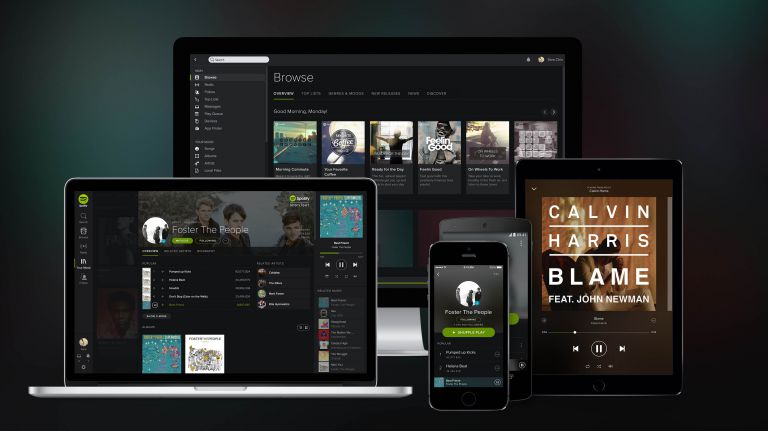 Simply follow these steps if you are transferring from an Android phone.
Step 1: Download Spotify on Android
Launch Spotify and go to the Playlist tab. Create a playlist of your favorite songs and add them to your choice. In this way, you can also create multiple playlists.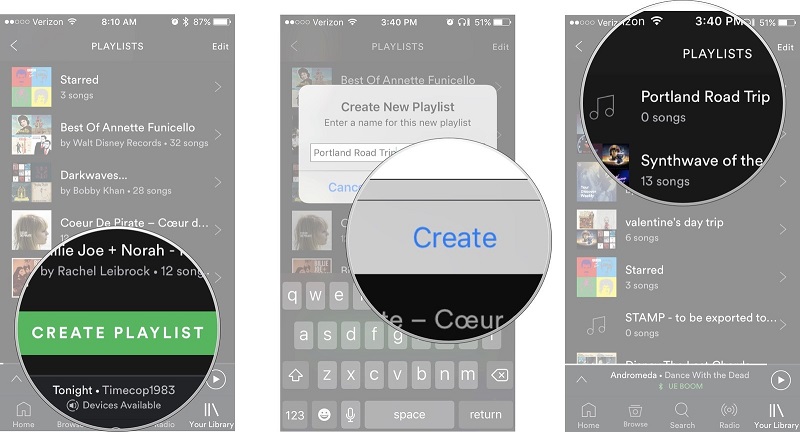 Step 2: Download Spotify on iPad
Go to App Store on iPad and download Spotify. Login with the same credentials you have used on your Android device. Then, tap My Music and access all the saved playlists.
You can follow the above steps for all other music streaming apps available for both the platforms. Just make sure to save your favorite songs in the playlist.
Part 4: Transfer music from Android to iPad manually
You can also transfer your music files from Android to the iPad manually via computer. The process will work by backing up your data to the computer with Android mobile and syncing it with the iPad via iTunes. However, the most significant disadvantage of using this method is that it will replace previous data from your iPad and add new data or music files.
Check the steps given below for the purpose.
Step 1: Connect the Android device with computer
Take your Android mobile and connect it with a laptop or computer via USB cable. Then, go to My Computer> Open Mobile from removable devices.
Tap the Music folder.
Step 2: Move Music folder
Now, drag and drop this Music folder of Android mobile to your computer desktop or any other location where you want.
Step 3: Access music files
Access all the music files directly on the computer, which you have copied in a separate folder.
Step 4: Install the latest iTunes version
It's time to install the latest iTunes on your computer. Then, connect your iPad.
• Click the iPad icon on the top-left corner of the interface.
• Click Summary in iPad and tick Manually manage music and videos. Then, at last, hit the Apply button.
• Select File> Add File to Library. It's the folder you've stored in your iPad music files, and now you need to transfer all the data in the music library of iTunes.
• Choose the Music button from the top and check all the available songs.
• Now, click on Music on iPad and hit the Sync Music tab. At last, hit the Apply button.
Conclusion
Thus, these are some of the recognized and simple ways to Transfer music from Android to iPad. We explained all the four methods in detail with each step and corresponding screenshot. Still, some of you may find it confusing to choose between top modes.
So, here is a tip, the main reason behind the priority selection that you need to consider is the ease of use, steps to follow, and type of user interface.
So, let's analyze each method on these terms.
Our first recommendation is the MobileTrans – Phone Transfer tool with just three steps. The remaining three methods are also efficient; however, there are lots of drawbacks.
Take Spotify, for example. If you can't stream certain Music in Spotify, then you won't be able to transfer it to the iPad and access it there.
Also, from our personal experience, MobileTrans is an almost cons free tool that is straightforward, contains minimum steps, and can be multi-purposes except for data transfer. At the same, it is universal software. Finally, I am sure you now know how to Transfer music from Android to iPad with the best ways in the industry.
Transfer data between Android, iOS, and Windows phones with 1-click.
Transfer up to 18 kinds of data between 6000+ devices.
Transfer WhatsApp data between Android and iPhone.
Backup and transfer data from your phone to PC.
Security Verified.
5,481,347
people have downloaded it.