How to Backup WhatsApp Messages from iPhone to Computer Dr.Fone Restore Social App?
The second option is to backup WhatsApp messages iPhone to pc via a third-party tool. Dr. Fone – Restore Social App has a high performance when it comes to the backing and restoring data, WhatsApp chats included.
Dr. Fone lets you easily transfer WhatsApp history and chats as the transfer is not restricted. All you need is three simple steps and your WhatsApp data such as pictures, messages, attachments, and many more will be transferred from your iPhone to the PC.
Features that make Dr.Fone – Restore Social App an after-sought Backup and Restore App
Handles your WhatsApp chats flexibly. Dr.Fone flexibility nature lets you perform numerous actions with just a few clicks. Use it to transfer WhatsApp chats from iOS to Android and vice-versa. You can also backup your KIK, LINE, Viber, and other chats easily.
Easily backs up your WhatsApp conversations. This App continues to go on tremendous improvements. It now makes the backup of WhatsApp history easier than before. It facilitates the transfer of WhatsApp chats among different operating systems. Transfer data from Android to iPhone or the other way round.
Preview your scanned data. This is an important part of the restore process. This App lets you preview to check whether you are yet to export the correct data. Furthermore, you can make further adjustments like deleting what is not necessary.
Transfers data between devices. You don't have to worry when it comes to transferring data. Whether it's a new device that you want to transfer data to or you have multiple devices, transfer with Dr.Fone is much efficient. Use this App to selectively transfer your chat history for any phone switches.
Follow these steps for a successful backup.
Step 1: Connect your iPhone to the PC
After a successful download and launch, start the WhatsApp backup iPhone to pc by choosing the "Backup WhatsApp messages" option. Next, connect your iPhone as an external device, to the computer. The computer should send you an alert that a new device has been found.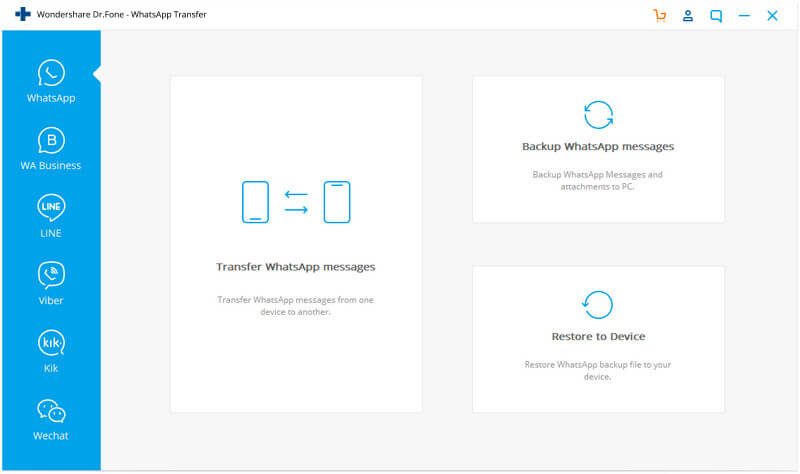 Step 2: Begin the backup process
As soon as the computer recognizes your device, the recovery process is just a click away. Select the "Backup" option to enable the backing up procedure to commence. There is a progress bar that will be highlighting time duration left for the backup to be completed.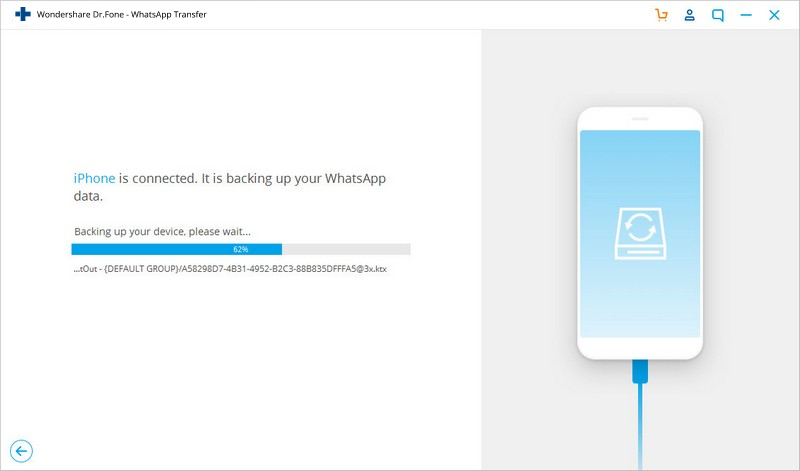 Step 3: View and Export backup
This App has a preview feature that lets you be certain of the data to select. Choose all the WhatsApp chats that you want to transfer to the computer. Then click the "Next" button to continue to backup.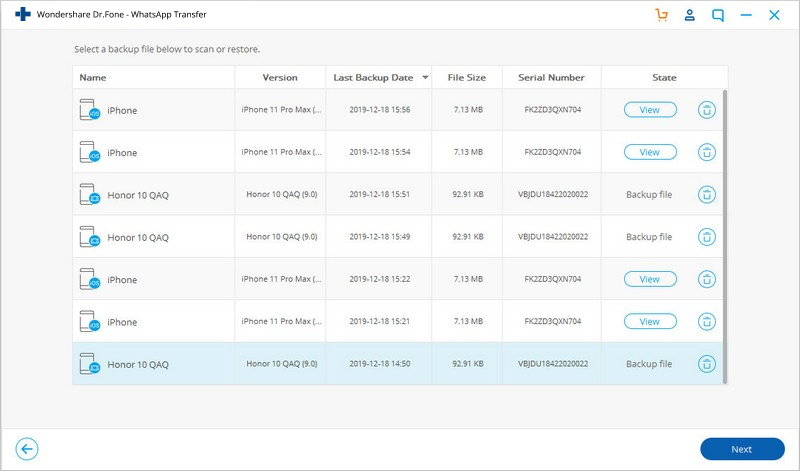 Step 4: Backup WhatsApp data
The final step is to back up your files. You can either pick them all or select only what is necessary for backup according to the data types. Once you are certain, click the "Export to PC" button to save them to the computer.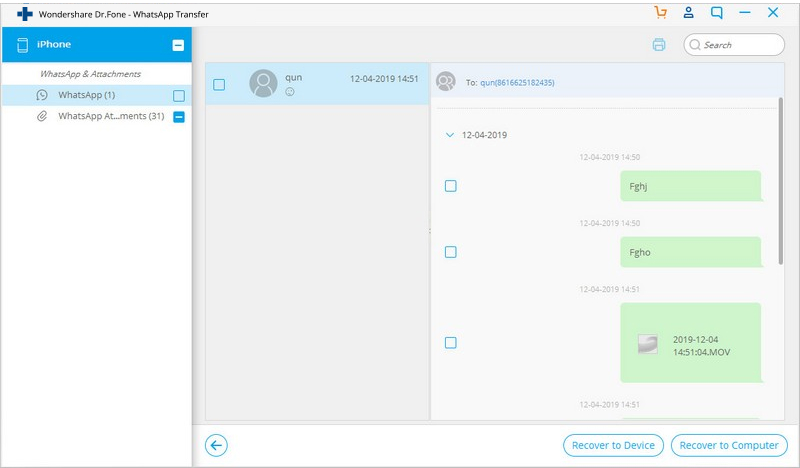 Other popular forms of WhatsApp backup iPhone
1) Backup WhatsApp messages from iPhone to iCloud
Your iPhone can be linked to an iCloud account. So, it is also possible to do WhatsApp backup from your phone to iCloud as long as the target device is linked to the same iCloud account. You only need an internet connection for your data to automatically sync to your account.
Go to your WhatsApp settings and click on the "Chats" option.
Then click on the "Chat Backup" found on your iPhone.
Next, tap on the "Backup Now" button. You can also decide to include videos in the backup.
For WhatsApp data restore, reinstall WhatsApp on your target device then link it with the same iCloud account.
Click on the "Restore Chat History" to enable your backup to be restored.
Email VS. Dr.Fone Restore Social App
| Features | Email | Dr.Fone restore social app |
| --- | --- | --- |
| Accessing files on your phone's internal storage | NO | YES |
| Determines the cause of file loss or hitch | NO | YES |
| Stores backup copies in a separate folder | YES | YES |
| It can restore social apps and create backup records like LINE, Viber, WhatsApp | NO | YES |
| You can read the transferred data on your computer | YES | YES |
| Easy to operate. | A bit complex | Easy |
| You can selectively restore data | NO | YES |
| Lets you transfer Whatsap chats between iOS devices and Android devices | NO | YES |
Conclusion
It is the worst-case scenario to suddenly realize that your important data have been tampered with. To avert such situations, data backup and restore plays an important role in how to take WhatsApp backup from iPhone to pc. If you are not able to successfully backup WhatsApp chats to the PC via email, the recommended tool can withstand any limits and perform an efficient backup. Dr.Fone Restore Social App can transfer WhatsApp history effortlessly, among other functional features.