Step by step guide to transfer WhatsApp backup from Google Drive to iCloud
You will follow various processes in the quest to transfer Google drive WhatsApp backup to iCloud. Start from downloading the WhatsApp backup to your Android phone before transferring it to the iPhone device. It is only at this juncture that you can now transfer the backup from iPhone to iCloud for the final step. Follow these steps for a successful transfer.
Step 1: Restore WhatsApp backup from Google Drive to Android phone.
Remember to use the same mobile number and Google account since you'll need both the Android and iPhone devices.
Reinstall WhatsApp on your Android phone. This is to bring a fresh backup from Google Drive to your Android device.
Then launch WhatsApp on your Android phone and tap the three-dot menu found at the upper-right corner.

Tap on the "Settings" option and then select "Chats"

Go to "Chat backup"

Tap on the "Back up to Google Drive". Chose how often you want your chats backed up.

Tap your Google account and choose the account that you want to engage.
Then tap the "Allow" option on the Google Drive prompt.

You can now backup your chats immediately. Tap the green "BACK UP" button to back up to your Android phone.
Requirements about Google Drive to backup and restore data
Storing your data on Google Drive is the safest option so far. Google saves up your data in top world-class data centers. And you find multiple redundant storage mechanisms in these centers. So, that said, you don't just save your data normally like with hard drives and other devices. There are requirements that you need to meet to use the Google Drive backup system.
An activated account on your phone
Sign up for an account using your email address and password. Remember these are the contents you need for logins whenever you want to access your Google account.
Install these on your phone or laptop for accessibility. You will have to factor in a higher version of Android devices i.e from Android 2 onwards.
Google Drive lets you save lots of data and so, you also need adequate space for the same. In case it runs out of space, it may end up not syncing data.
Google Backup Drive - Tips to help you along the way.
Google Drive is one of the safest places to have your WhatsApp data backed up in. There are, however, additional ways that can help you in streamlining your restore processes.
Sync your work on multiple devices
It is time-consuming to transfer files back and forward across different devices. You can evade this by installing Google Drive synchronization software on your devices. This will make your data to be kept up to date on all platforms.
Save files directly to Google Drive
Direct saving of files to Google Drive will mean faster file sharing and retrieval. There is no point of downloading files to one device especially if you use multiple devices. Make use of the Gmail built-in option to directly save and retrieve data from Google Drive.
Restore previous versions of data
This is quite helpful when you share a Google Drive account with other users. It helps in backing up of the older versions of data such that if one user makes an update, you can go to the "See Revision History" and pinpoint which user made them. And with "Restore Previous Version", you can set individual files and retain all revisions.
Step 2: Transfer WhatsApp data from Android to iPhone
Given the magnitude of its usability, there are certain moments when you'll need to transfer WhatsApp messages from Google Drive to iCloud; i.e Android storage system to iPhone's. This is only achievable via third-party tools.
Our recommended tool is Dr.Fone restore social app. In just one click, this App manages to successfully transfer any data type across devices. Follow these steps to transfer WhatsApp data from Android to your iPhone.
1. Install and Launch the App
Once you have downloaded Dr.Fone – Restore Social App, simply launch it on your computer. Next, connect both your Android and iPhone devices to the PC. Go to the computer's main screen and select the 'Restore Social App" option. Click on the "WhatsApp" and then the "Transfer WhatsApp messages" buttons.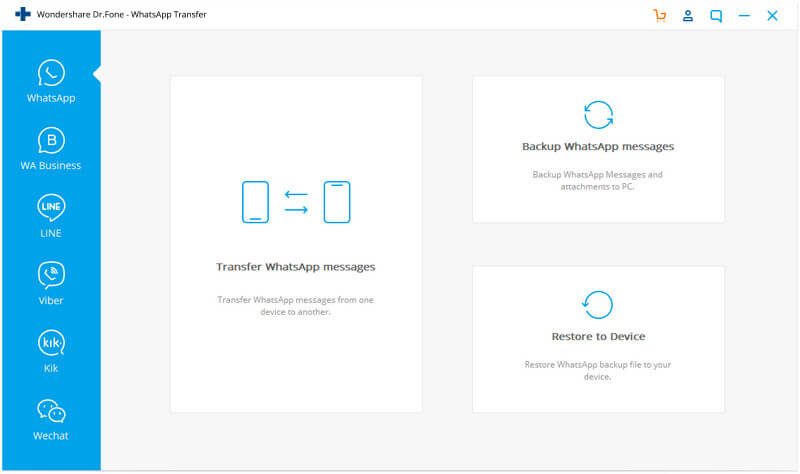 2. See that your devices have been recognized.
Wait for your Android and iPhone phones to be detected. They should both appear as connected to your computer.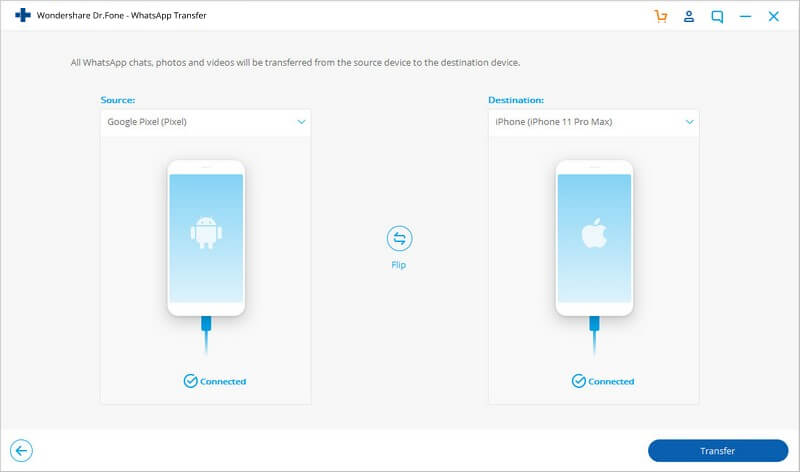 3. Transfer whatsapp messsages
Click the "Transfer" button at the bottom-right corner of the screen. This should transfer your WhatsApp messages from your Android phone to the iPhone device.
4. View Android WhatsApp messages
Once the transfer is completed, a list of Android WhatsApp messages will be populated for you to view retrieve on your iPhone.
Why Choose Dr.Fone – Restore Social App?
Dr. Fone – Restore Social App is intertwined with classic features that let it transfer WhatsApp backup from android to iPhone in a click of time. You can now breathe a sigh of relief when you finally acquire a new phone. Remember that your old data does not automatically transfer to your new device. That's why a WhatsApp transfer App such as Dr. Fone is necessary for transferring such messages. Besides having a user-friendly interface, this App can flexibly handle your WhatsApp chats.
Its high-tech ability makes the backup of WhatsApp conversations and restores to both iPhone OS and Android much easier than ever.
Use it to transfer your WhatsApp chat history between your iOS devices. Furthermore, transfer from Android to iPhone and vice versa are well enhanced with this tool.
Other social Apps are neither left out when it comes to Google Drive to iCloud WhatsApp services. You can backup LINE, Viber, Wechat, and much more Apps on your iOS.
Also use this App to restore iOS and Android WhatsApp backup to your iPad, iPod touch, iPhone, and Android devices.
Step 3: Transfer WhatsApp data from iPhone to iCloud
Using WhatsApp on iPhone will automatically backup data to iCloud. That's why you can access most of your data even after switching to a new iPhone. However, you may sometimes need to transfer your WhatsApp data from iPhone to your iCloud account in case they can't sync.
Step 1. Open "Settings" on your iPhone and tap on your name. Scrow down the menu and you see iCloud option .
Step 2. Choose iCloud and switch iCloud Drive to "on".
First, sign in to your iCloud.com account.
Then go to the "Settings" section and select the "iCloud" option.
Ensure you turn on the "Back up to iCloud" section. Then select the "Back up now" option to move your WhatsApp data to iCloud.
Conclusion
You need to transfer data from one device to another for various reasons. So whether it's to transfer Google drive WhatsApp backup to iCloud or Android to iPhone, Dr. Fone – Restore Social App is here to take you through. It offers secure processing for your WhatsApp message transfer, backup and restores alike.