How to Restore WhatsApp from iCloud?
Written By Nicola Massimo |
Due to its ability to store any type of data, many people find WhatsApp messenger pleasant to operate on. Apart from having a Chat Backup option to back up data to iCloud, you can also retrieve data that you've accidentally deleted on your WhatsApp messenger. iCloud automatically syncs data and keeps them for the longest time possible. So, in the quest to find ways to restore WhatsApp backup from iCloud, dive into this article and operate as a real tech-savvy.
Method 1: How to restore WhatsApp from iCloud on iPhone?
As long as you have backed data on iCloud then you can retrieve them at any time. Restoring WhatsApp from iCloud on your iPhone device is a concern for many people. And in most cases, there are important data that need to be retrieved. So whether it's a new phone or your old gadget, you can still retrieve your previously backed data from iCloud.
Remember you will need to verify your phone number and so, ensure you have the correct one in place. Your Apple ID is also very important for signing in purposes. Keep in mind that your WhatsApp messenger and your iCloud ID should work on the same network. If there is some differentiation in the provided phone number or user ID then you will need to do a fresh WhatsApp reinstallation on your device.
Follow these steps to restore any data type from iCloud.
Open your WhatsApp messenger and go to the "Settings" option. Select "Chats" and then the "Chat Backup" to confirm that there is a backup.
If it's your old phone, delete the WhatsApp messenger and then reinstall it again. For a new phone, simply install WhatsApp messenger.
Verify your phone number and iCloud ID.
You'll get a prompt to restore chat history. Next, click on the "Restore Chat History" option to gain your WhatsApp messages from the iCloud backup.
Method 2: How to Restore WhatsApp from iCloud via dr.fone - Recover?
There are sometimes when restore WhatsApp from iCloud is not possible using the first method. Various reasons come along the way. It could be that the restore process got stuck and was not able to complete. Or perhaps you were met with an error message and hence the backup could not be found. This simply calls for a reliable third-party tool to uncover such miseries. dr.fone - Recover can recover your WhatsApp in a flexible manner. Check out the steps below.
Step 1: Launch and install the App
Once you have downloaded dr.fone and installed it on your device, launch it. Then go to the "Recover from iCloud Backup" files. Put in your iCloud ID and password to sign in.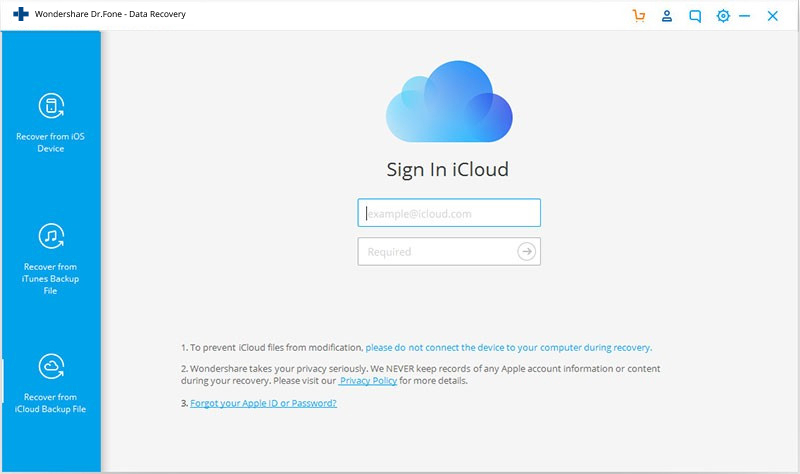 Step 2: Select iCloud backup data
This App will proceed to search for all the backup files it can find. You need to select WhatsApp iCloud backup to restore your data. But first, dr.fone will scan through your files consistently to unravel all the data that can be restored.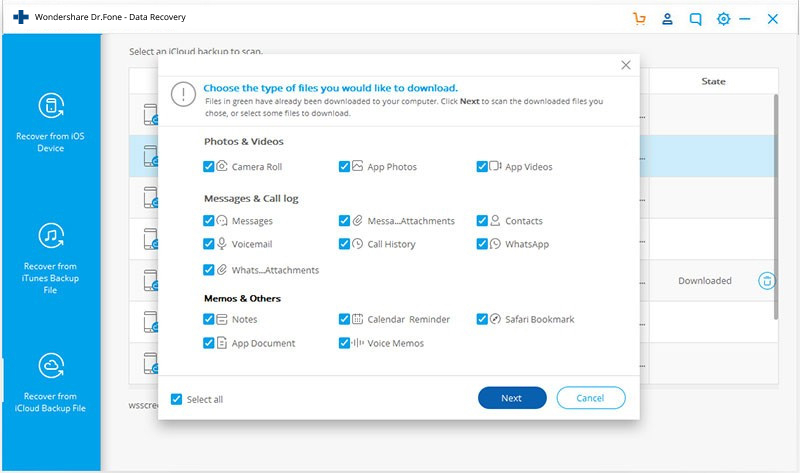 Step 3: Preview and Recover
dr.fone will then scan your WhatsApp data to unfold them. Simply check all the WhatsApp files you need to restore and click on the "Recover" button. You can then save your data on your computer or any other external device.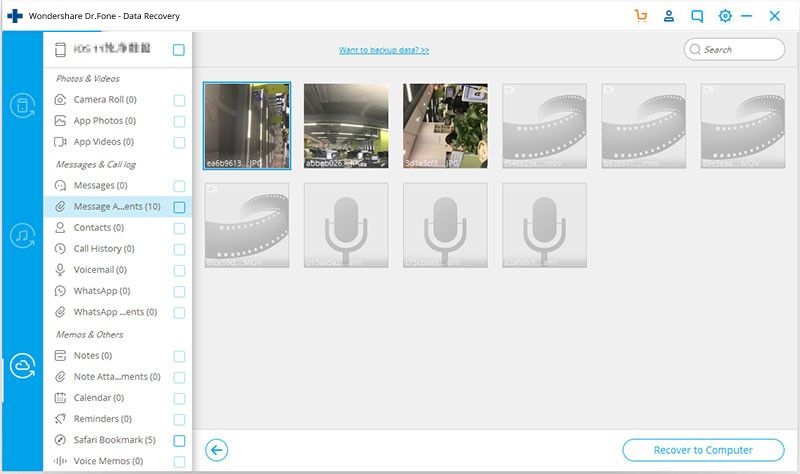 Method 3: How to if you failed to restore WhatsApp from iCloud?
Eventualities are bound to happen, and it's no different even when it comes to restore from iCloud WhatsApp. You may have experienced a drawback in data restore from iCloud. If you are approached by the "Couldn't restore chat history" error message, then know it's time to take action. There are situations when clicking the "Retry" button will bring you out; but in some cases, it ends up you are unable to restore your WhatsApp data. If that's the case, these 6 solutions may be of great help.
1) Check your phone's storage
Lack of storage space is a great hindrance to adding more data to your device. The common error message is "your device is running out of space". Whenever you are greeted with such a message, check out from your "Storage" which data to delete. Go to the "Settings" option and select the "General" tab. Then go to the "iPhone Storage" and check out the available space. If space is not sufficient, delete the unnecessary files.
2) Force Restart your phone
Restarting your phone is like giving it a revived energy. At times, you are not able to restore data from iCloud because your phone is clogged up and needs a fresh restart. Press the "Power" and "Home" buttons simultaneously until an Apple logo appears on the screen. This may, however, vary with different versions.
3) Check internet connection
You need a stable internet connection to successfully restore WhatsApp backup from iCloud. In most cases, you will be required to check out the network connection and do a rerun of the configuration. While in some cases, there could be a hitch up with the connecting cables, which need a simple fix and you are good to go.
4) Check the iPhone's version
An outdated version would require an upgrade. If your WhatsApp device was configured on a higher version, then the backup restore cannot be performed on a lower version than the earlier. It will need an upgrade in such a case. To check it out, go to the "Settings" option and choose the "General" tab. Then click on the "About" tab and then the "Version" option to check it.
5) Check whether iCloud is turned on
Remember the restore is taking place from the iCloud feature. So, it should be enabled before you get WhatsApp backup from iCloud. If not, you may not achieve any restore to your device. Furthermore, you need to sync your data for you to retrieve them. If iCloud is turned off, there is no way data is going to be synchronized for restore.
6) Use the same phone number and Apple ID
It's a requirement that the phone number used for backing up your WhatsApp messages should be the same as the one you are using for the restore of data. In case you decide to use a different number then you will experience a failed restore because they are not connected. The correct move is to uninstall WhatsApp messenger from your phone and then re-install it using the number you intend for your iCloud account.
Tip: How to Reduce the Size of WhatsApp on Your Phone
Did you know you can control the amount of storage space your WhatsApp is consuming? Yes! Inability to download WhatsApp backup from iCloud may not be connected to any of the above 6 solutions. It could be your WhatsApp application. So, if you have exhausted all the above avenues and you cannot get any help, follow these steps.
Find the biggest chat from your WhatsApp messenger.
Tap on the "Settings" option and then on the "Data and Storage Usage"
Choose the "Storage Usage" option at the bottom and click on it.
You will see a list of chats with the storage capacity.
Export and clear the chats that consume the greatest amount of space to create more space for restore.
Conclusion
Overall, it is not a walk in the park to retrieve WhatsApp backup from iCloud. You need to put more effort especially if you are restoring your backup the regular way. Many at times, this option fails and leaves you with error messages. And on some occasions, you may need to retry severally before you finally get your data. However, dr.fone works quite differently. There is no need for installing and reinstalling of your WhatsApp account. Furthermore, this recovery App can dig deeper and salvage any type of data.
Transfer WhatsApp data between Android phone and iPhone with few clicks.
Compatible with 6000+ mobile phones.
Transfer data safely without cloud storage
Transfer and backup WhatsApp data between phone and PC.