Just as it is with all other types of data, you can easily lose the apps you have purchased on your device for any number of reasons. They can be accidentally deleted, get lost after some type of hardware damage to the device or even due to software related issues such as jailbreaking or virus attacks, or maybe you lost your phone.
If you have a device that is running on iOS 5 or later, it is actually possible to re-download the apps from iCloud. This article will show you various ways to get your apps back.
Part 1. How to Restore Apps from iCloud on iPhone/iPad
Downloading the deleted apps from iCloud is quite easy and straightforward, the following are the simple steps to help you get your apps back.
on your iPhone or iPad, launch the App Store.
Tap your profile icon at the top right of the screen.
Tap on the "Purchased" button and you will see all the apps on your device.
Select "Not On This Device" and then tap on the iCloud icon next to the app to download the app for free.
Part 2. How to Restore App Data from iCloud
Re-downloading purchased apps is an easy operation as we have seen above. But what happens when you lose other types of data on your device. Most people would say that they would restore the device from their latest iCloud backup and be just fine. This is indeed a good solution to take. But it has one major shortcoming. In order to restore an iCloud backup, you have to erase all contents and settings on your device which can lead to all sorts of data related problems.
If you want to restore your iCloud backup but avoid the complete loss of existing data and settings, we have solution for you. Wondershare Dr.Fone - Data Recovery is a tool that is designed to help you easily restore data from any iCloud backup file to your device while bypassing the data loss. The following features make it ideal.
Restore from iCloud to Android by One Click!
• Create complete backups of your device's data to your computer
• Restoring data can be done in a few minutes and a few simple clicks.
• Restore data from other backup files including iTunes.
• Supports iCloud version 8.0 or above.
Here's how to use Dr.Fone to restore files from iCloud.
Install the program to your computer. From the main window, select "Data Recovery".
Connect the iOS device to the computer and choose "Recover iOS Data".
Choose "recover from iCloud" from the left dashboard. Sign in to iCloud and select the relevant backup file.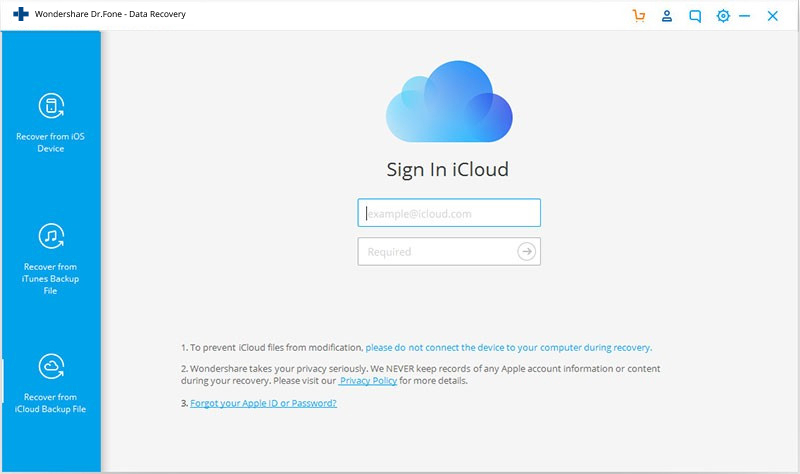 Then all of your iCloud backup files will be displayed. Choose one of the backup files and click "Download". Wait for the program to download the selected backup file.
Once the download is complete, click "Start Transfer" to begin restoring the files to your iOS device. Keep the device connected through the entire process.
Part 3. How to Restore Apps Using iTunes
You also have the option to re-download the apps on your computer via iTunes. This process is also just as simple. Just follow these simple steps.
Open iTunes and then click on "Account" in the menu bar.
Click on "Purchased".
Click "Apps" at the top of the Window and then select "Not in My Library."
Click on the download icon near each app to download the app. You can download multiple apps at the same time.
Now you don't have to worry about having to purchase apps you had already paid for. Fortunately for you, Apple remembers that you already paid for them. Simply follow our guide to re-download them back to your iOs device. And should you ever need to restore lost files from iCloud without having to restore the device, Dr.Fone will come to the rescue. There is no reason to lose new and existing data just so you can get back lost data.
Restore
1. Restore from iCloud

2. Restore from iTunes

3. OneDrive